The Registered version is different to the Trial version - Registered Users need to download from the Registered Users page.
A Portable Version for use on Removable/Portable Hard Drives is available for download from the Registered Users page.
ESBProgCalc™ Pro Trial v2.2.0 zip (2,129 kb) rar (2,127 kb) - 30 September 2016 - ESBProgCalc Pro is a Programmers Calculator that supports full precedence, large range of operations (including And, Or, Not, Nand, Nor, Xor, Xnor, Shl, Shr, Rol, Ror, Neg, Mod, etc), Paper Trail, Clipboard Support, History of results, Integrated Help, Expression Editing, and much more.. For those who don't like Precedence of Operators, that can also be turned off.
What's New in v2.2.0 : zip or rar or txt.
Note: We are working on v3 (free upgrade for registered owners), but have released this update to address a few issues and to allow better support under Windows 8 and 10.
Limitations of Trial: Nag screen reminding only 20 executions, printing is disabled, checking for updates is disabled, does not include electronic documentation nor the PDF designed for producing printed documentation.
Works on Windows XP, Windows Vista, Windows 7, Windows 8, Windows 10 and above, and Windows Server 2008, Windows Server 2012 and above.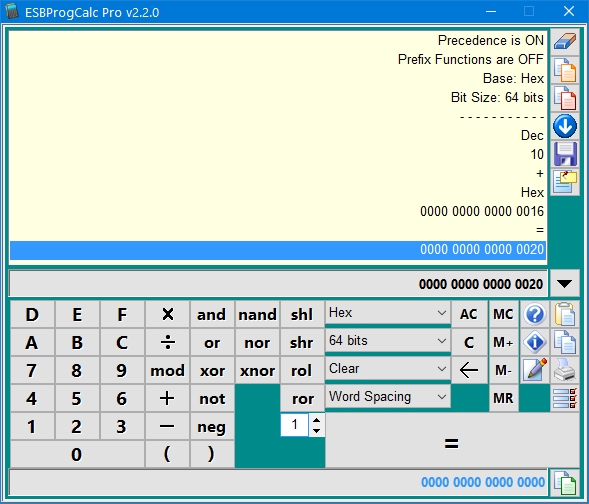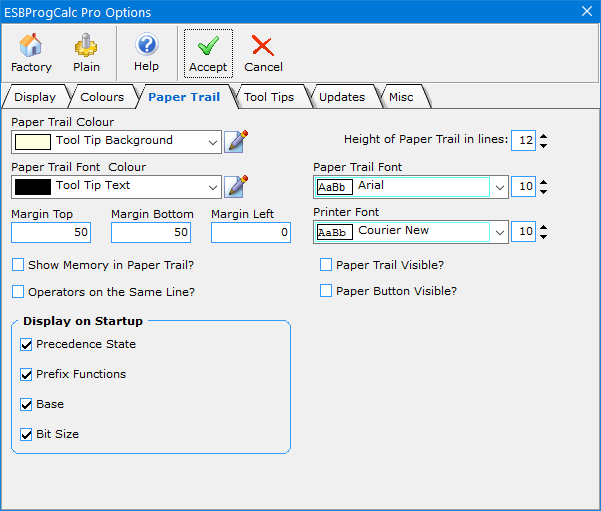 Screen Shots are how ESBProgCalc Pro looks under Windows 10
You only need to register once - all upgrades are free for the life of the product - so purchase now.
You may also want to consider the ESBCalc Pro Suite - with this you get all the ESB Calculators and Unit Conversion Utilities, including new ones as they are added to the suite, and once again registration is only needed once. Note: price of the Suite will increase as more Calculators are added but this will not affect registered users.
---
ESBProgCalc™ Pro Trial v2.2.0 - without install zip (1,968 kb) rar (1,683 kb) - 30 September 2016 - Same as above but without the Install/Uninstall, just has the files in a zip or rar archive.
---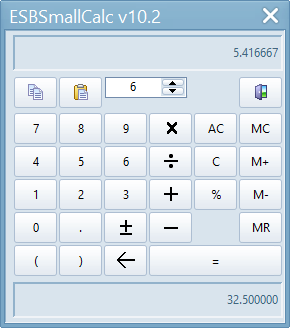 ESBSmallCalc 10.1 on Windows 11
Registered Users also get ESBSmallCalc
---