ESBCalc™ v7.3.1 zip download - 1,239 kb rar download - 1,240 kb - 16 April 2012 - ESBCalc is a Freeware Scientific Calculator for Windows with Infix Notation, Brackets, Scientific Functions (Trigonometric, Hyperbolic, Logarithmic - including Base 10, Base 2 & Natural - plus more), Memory, Paper Trail, Result History List and more. Includes Prefix Function support so that Log (1.3) can be entered as log 1.3 rather than as 1.3 log which is also available if you prefer that behaviour. The current state of Precedence, Prefix Functions, etc can be displayed at startup to help avoid confusion.
ESBCalc™ v7.3.1 Portable Version zip download - 830 kb rar download - 830 kb - 16 April 2012 - For use on Removable/USB Drives.
Works on Windows 98, Windows Millennium, Windows NT4, Windows 2000, Windows XP, Windows 2003, Windows Vista, Windows 2008, Windows 7, Windows 8 and Windows 10.
The visual appearance of ESBCalc has been optimised for 800x600 (or better) with 16-bit colour (or better). It looks really great under Windows XP, Vista and 7. You will also get the "nicer" buttons on Windows XP and above.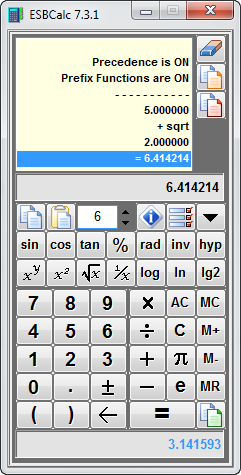 Screen Shot is how ESBCalc looks under Windows 7.
Also includes customising of the Colours & Fonts used, as well as customising how the Hints (ToolTips) appear.
---
If you would like a Scientific Calculator that also has:
Scientific Notation

Expression Editing

Random Numbers

More Functions

More Constants

User-Defined Constants

Descriptive Statistics

Conversion between Hexadecimal and Decimal

Conversion between Fractions and Decimals

Lakh Formatting of Numbers

Adjustable Paper Trail Height

Printing of Paper Trail

Add Notes, Date/Time Stamps and/or Author info to Paper Trail

Optional "Stay On Top"

More customisations

Integrated Help

PDF Documentation suitable for printing

More Frequent Updating
Then check out the commercial version, ESBCalc Pro - only $19USD - register only once, all upgrades free.
Some features from the commercial version will filter down to the free version over time.
---
ESBCalc™ v7.3.1 without install zip download - 952 kb rar download - 952 kb - 16 April 2012- Same as the non-portable above but without the Install/Uninstall, just has the files in a zip or rar archive.