Statistical Analysis made easy for Windows.

Current Release: v2.2.0 on 13 May 2008
Current Trial Release: v2.2.0 on 13 May 2008
Grab What's New in v2: text or zip
Price Reduction: ESBStats now $79US
---
ESBStats™ aims at providing Statistical Analysis to everyone.
ESBStats is a Statistical Analysis & Inference Software Package for Windows covering everything from Average, Mode, Variance through to Hypothesis Analysis, Time Series & Linear Regression. It Includes Online Help, Tutorials, Graphs, Summaries, Import/Export, Calculator, Live Spell Check, Install/Uninstall and more. Designed for Windows Platforms.
Check out the Features and the Screen Shots.
Requirements: ESBStats has been designed for Win32 systems and has been tested under Microsoft Windows 98 SE, Microsoft Windows Millennium, Microsoft Windows 2000, Microsoft Windows XP, Microsoft Windows 2003, Microsoft Windows Vista, Microsoft Windows 7 and Microsoft Windows 8. It has been optimised for use with Microsoft Windows XP and above.
---

ESBStats Trial v2.2.0 - (6,716 Kb 13 May 2008) Includes Installer/UnInstaller - trial version does not allow printing and will run only 20 times.
The Registered version is different to the Trial version - Registered Users need to download from the Registered Users page.
Additional Dictionaries - If you would like Dictionaries in addition to those included then grab them from this site.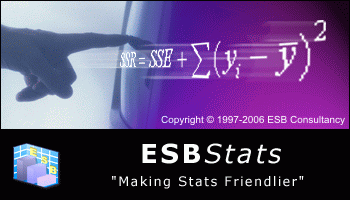 ---
Mail - We are always happy to receive support emails from our customers.
---
Screen Captures made with HyperSnap-DX