Services every Sunday at 9:30am
Location: Corner of DeBaun and Moran Streets, Boulder.
Mail: PO Box 2212, Boulder WA 6432.
Contact: Glenn Crouch or email us.
Phone: 08 9093 2133 FAX: 08 9093 2220
Pastor: Adrian Kramer - based in Esperance.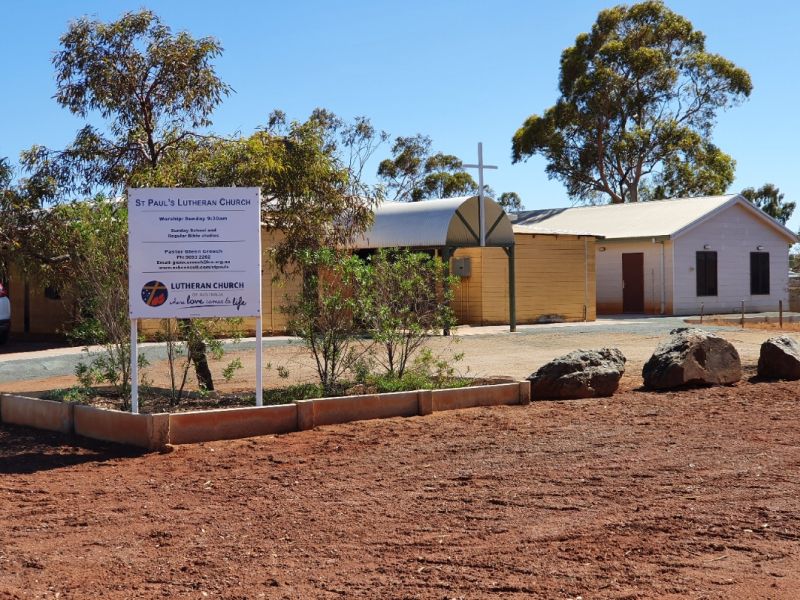 Sunday School for Preschoolers and Primary School aged Children.
Weekly Bible Study/Pray Time.
We celebrated the 20th Anniversary of our Church Building in 2005. Download the Presentation here (25 MB).
We are celebrating the 25th Anniversary of our Church Building on 25 April 2010. If you can attend please email us or call us.
---
Proposed Upcoming Services at 9:30 am Sunday unless specified otherwise.
21 Apr 13 (4th Sunday of Easter) - Wayne Astill

28 Apr 13 (5th Sunday of Easter) - Glenn Crouch / Communion

5 May 13 (6th Sunday of Easter) - Glenn Crouch

12 May 13 (7th Sunday of Easter / Ascension) - Pastor Adrian / Communion

19 May 13 (Pentecost) - Wayne Astill

26 May 13 (Trinity Sunday) - Glenn Crouch / Communion

2 Jun 13 (2nd Sunday after Pentecost) - Pastor Adrian / Communion

9 Jun 13 (3rd Sunday after Pentecost) - Wayne Astill

16 Jun 13 (4th Sunday after Pentecost) - Glenn Crouch / Communionl

23 Jun 13 (5th Sunday after Pentecost) - Tony Webb. This weekend is also the Parish AGM in Esperance, so may not have a Sevice.

30 Jun 13 (6th Sunday after Pentecost) - Glenn Crouch / Communion

7 Jul 13 (7th Sunday after Pentecost) - Wayne Astill

14 Jul 13 (8th Sunday after Pentecost) - Glenn Crouch / Communion

21 Jul 13 (9th Sunday after Pentecost) - Tony Webb

28 Jul 13 (10th Sunday after Pentecost) - Glenn / Communion
---



Australian Church Resources formerly Openbook Publishers